I have had the opportunity to spend some days in Dublin, Ireland and it has been with mixed feelings.
It was my first visit to Dublin and to be honest the first impression was that I do not want to come back here again. It is a city that partially was in ruins mixed with new modern offices buildings in glass and steel. Everything was in high contrast. Large shopping streets with high end stores and just a corner from that, someone has arranged a temporary sleeping place out of cardboard boxes for the night.
That said I would be very happy to come back again to be able to see a Dublin back on its feet economically, starting to rebuild everything that was broken.
The intention for my visit was business so I didn´t have that much time to spend on walking around on the streets. Anyway a couple of hours out walking are better than nothing, at least better than the inside of a conference room at the hotel…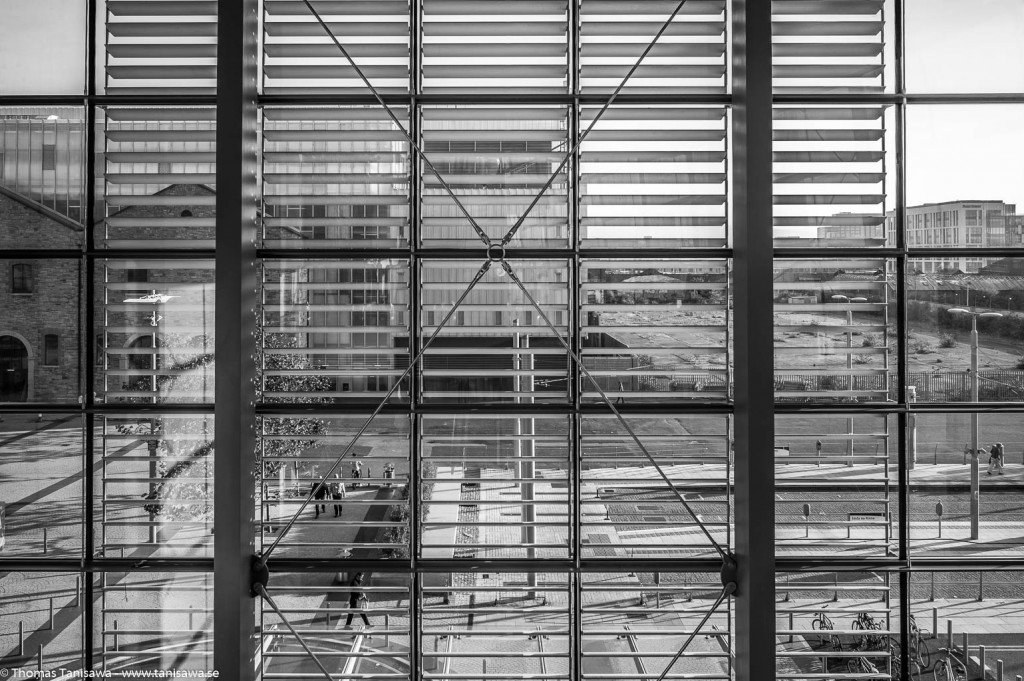 My first impression of Dublin: This is a modern city of steel and glass. Everything looked like it was build last year and that the optimism was in the air.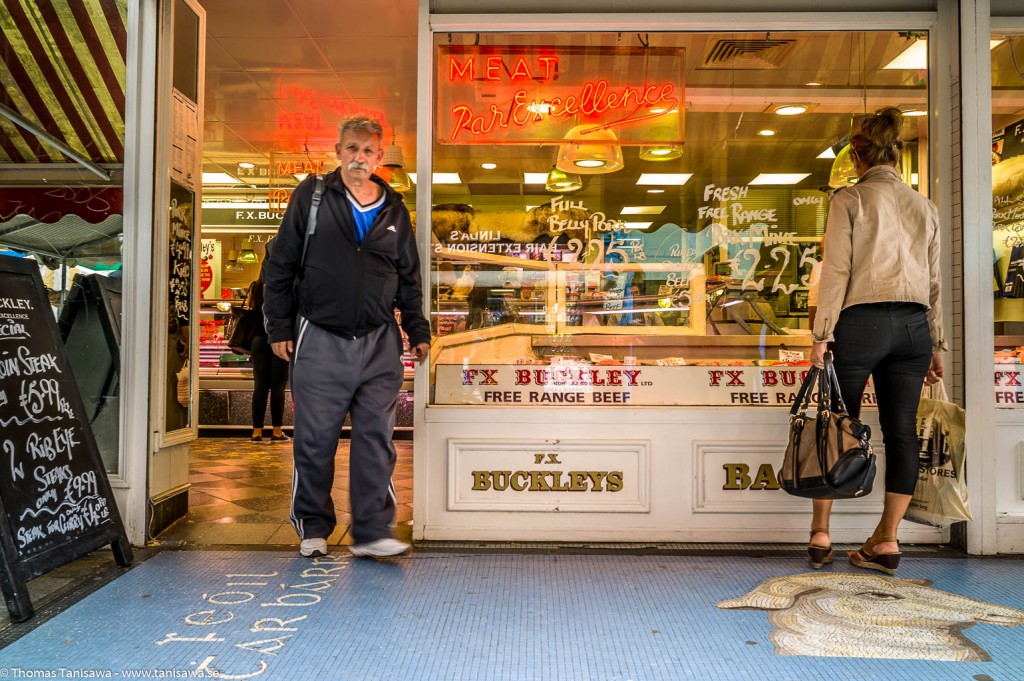 Out on the street it was a quite cool mix of shops and stores. Large famous brands had stores next door to old-fashioned butchers and pubs. This butcher had a nice mosaic entrance and the offer of the day handwritten on the window.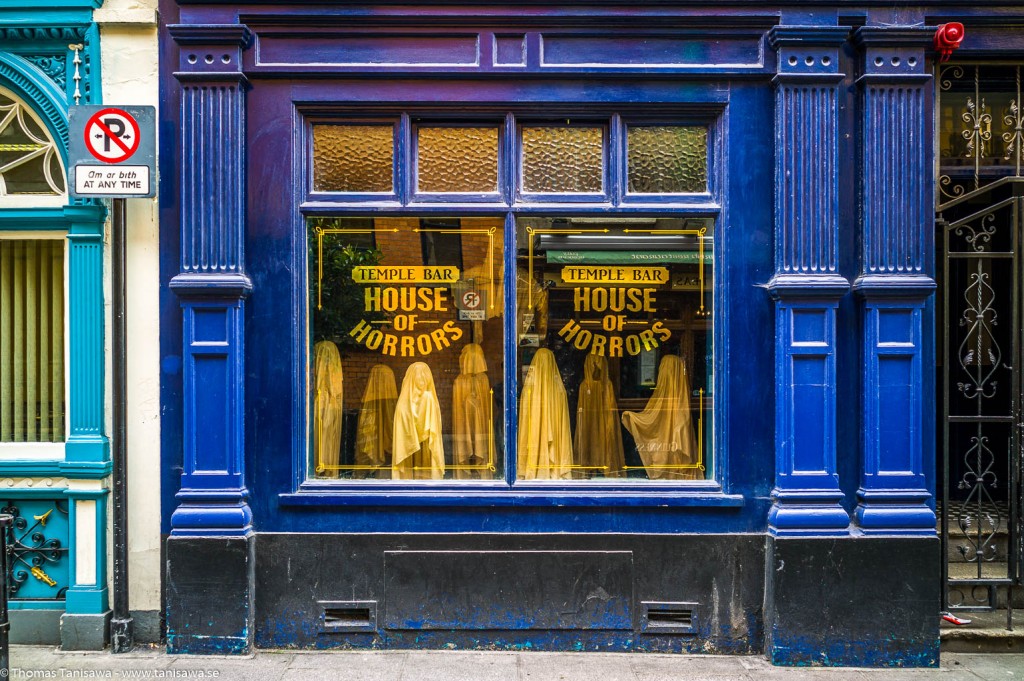 A lot if the buildings had rich décor and were painted in bright colors. It looked like someone back in the days really cared for the look and feel of the streets. This had unfortunately changed… The will to do it might still exist but the means to get it done was in most cases missing. I didn't manage to find out what was behind these windows in the Temple bar district, but it definitely wasn´t a "normal" shop.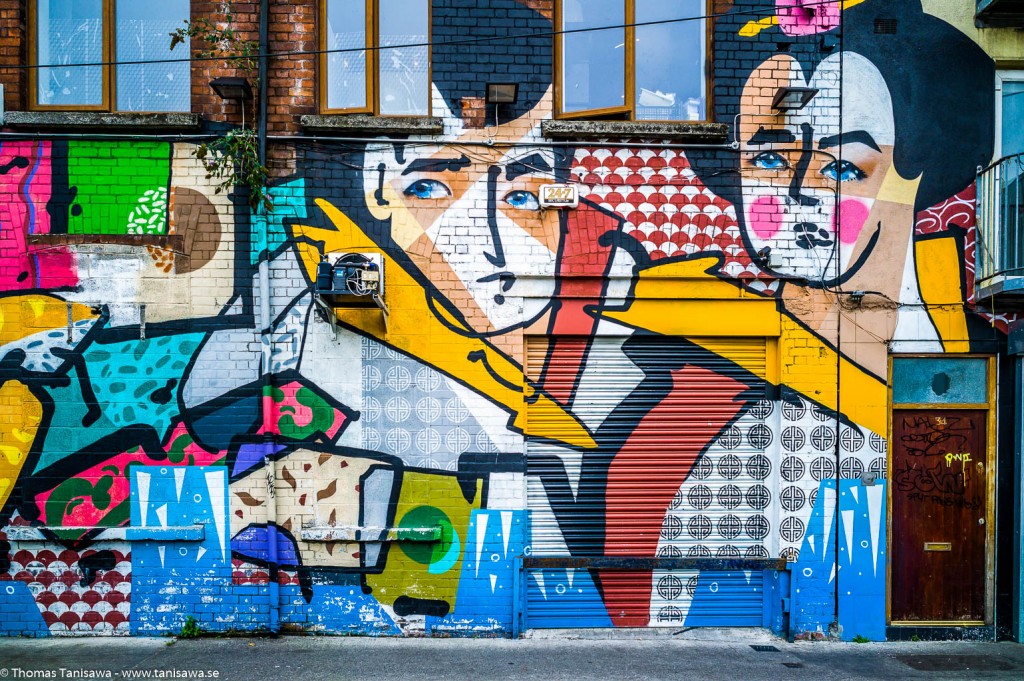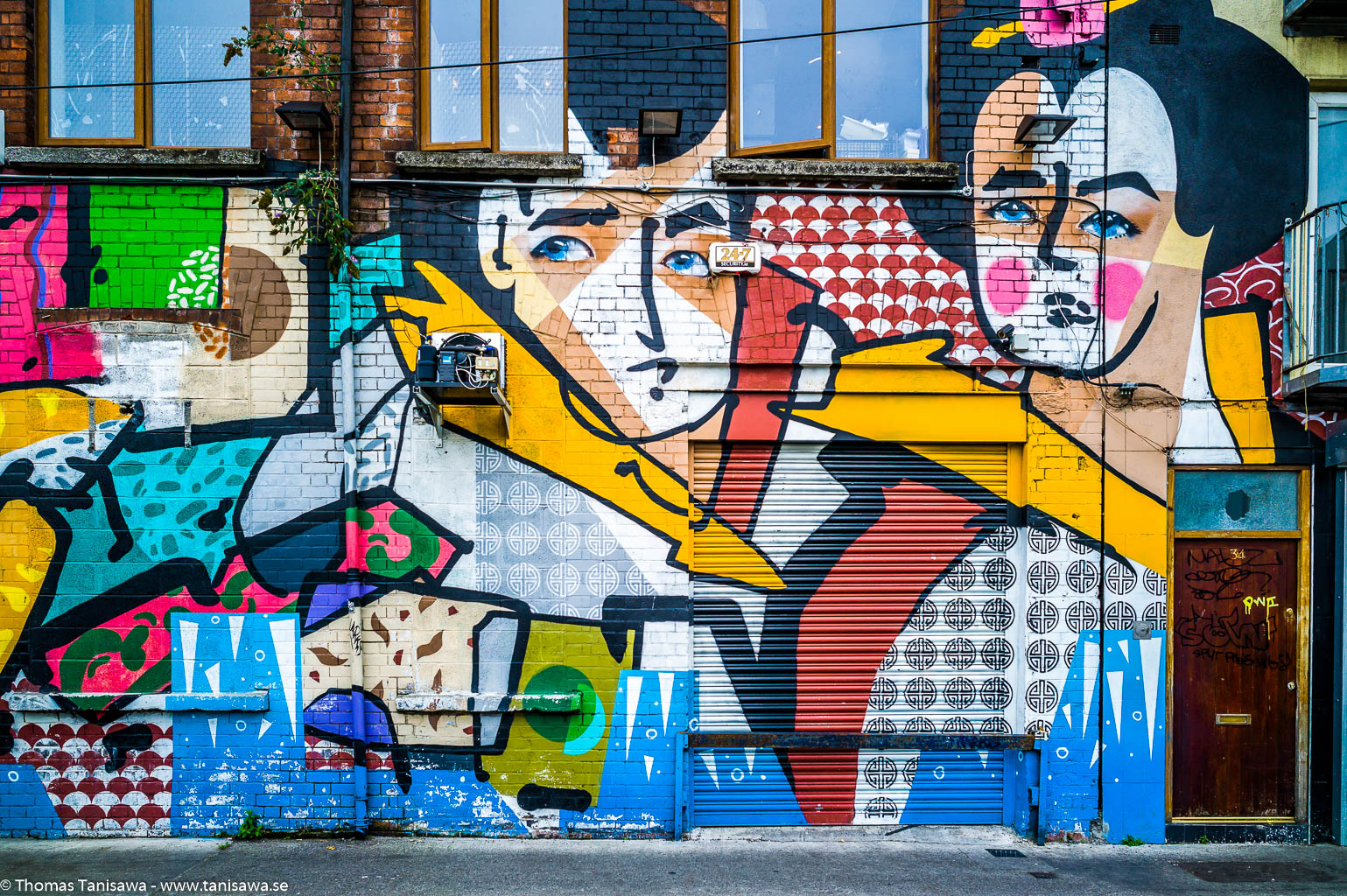 This is a good example one of the many painted hoses in Dublin's back alleys. There were several houses that were painted in a graffiti like style that made the whole street just pop out from the ordinary brick red or concrete gray.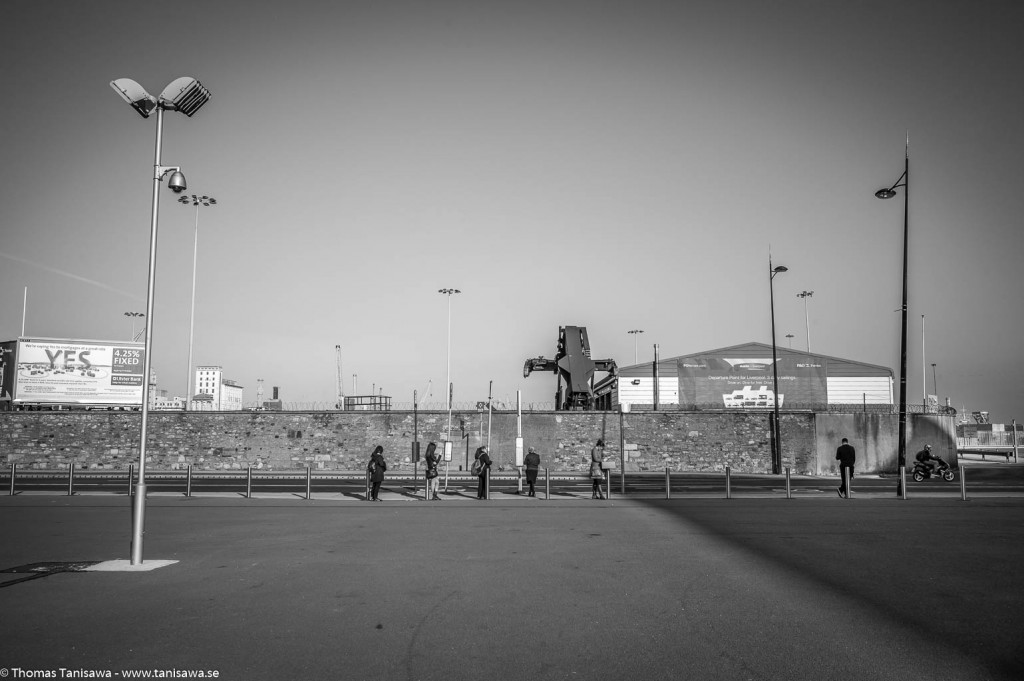 This is early morning queuing for the buss. It looked like there was an unwritten rule saying that the safety distance between each person is one pole or more.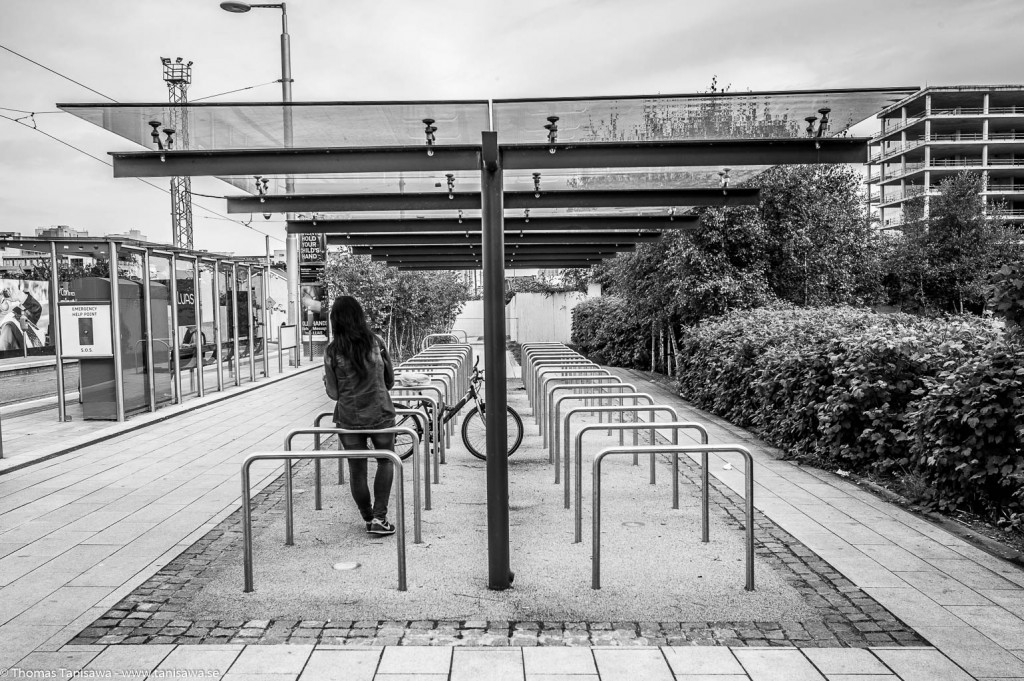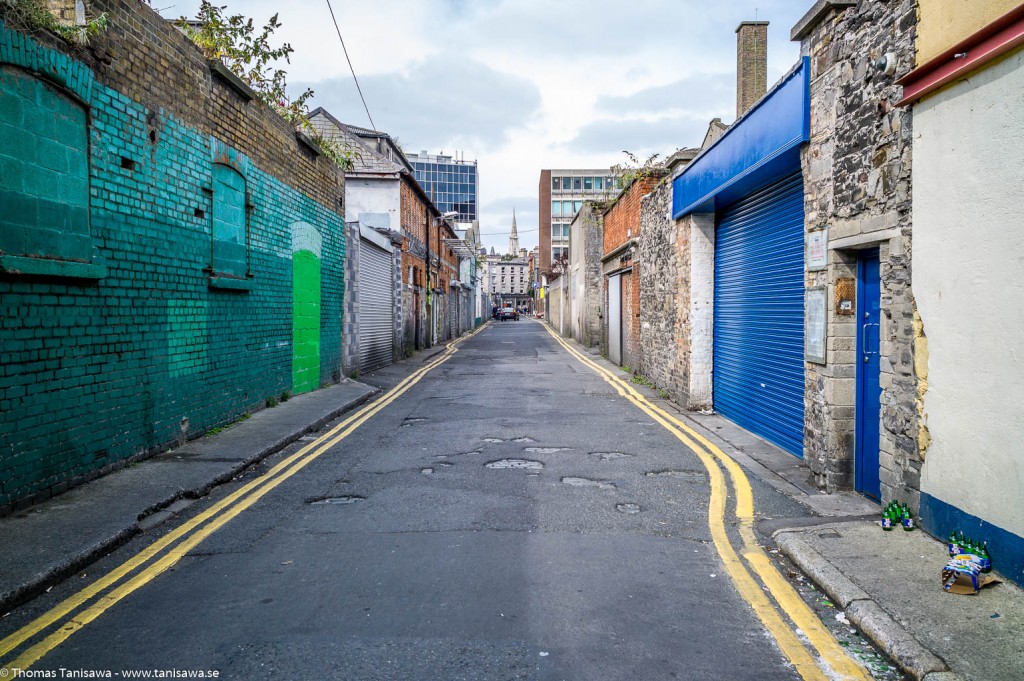 As soon as you took a step away from the main streets there was a maze of small streets. Most places looked abandoned and it was a quite depressing to see all hoses that someone a long time ago took the time and care to build, now was left to their own devices. Not even the bright colors could cheer it up.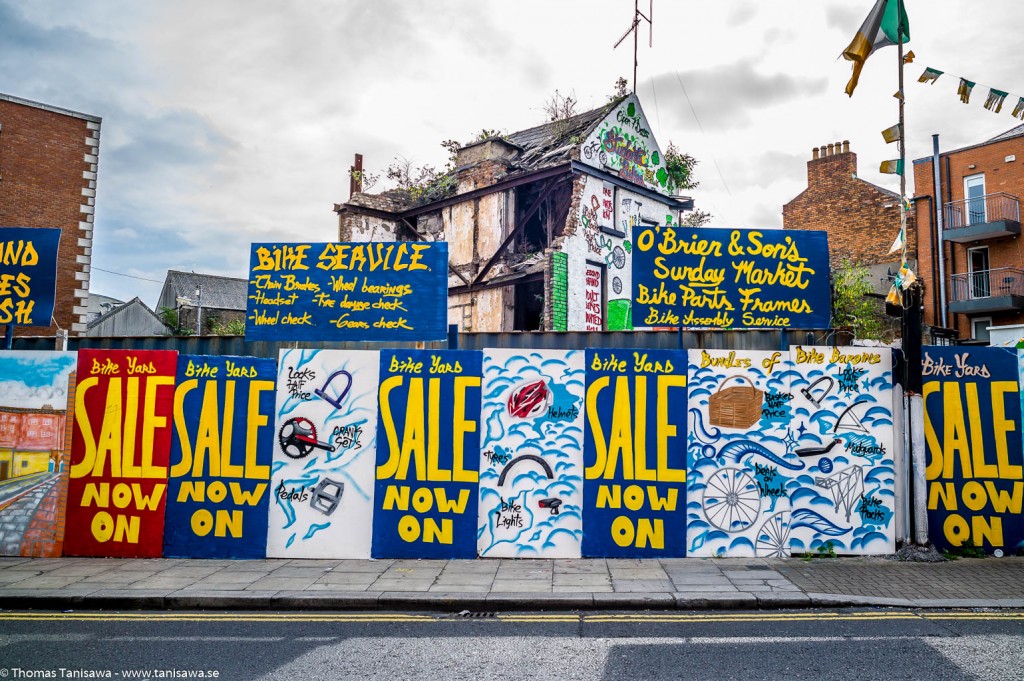 To me this was a typical Dublin scene. This was a house that here I Sweden anyway, shouldn't be suited for a public store. But here it was perfect for a second hand bicycle shop. All you hade to do was to claim the lot, paint the house and put up a nicely painted plank around it all!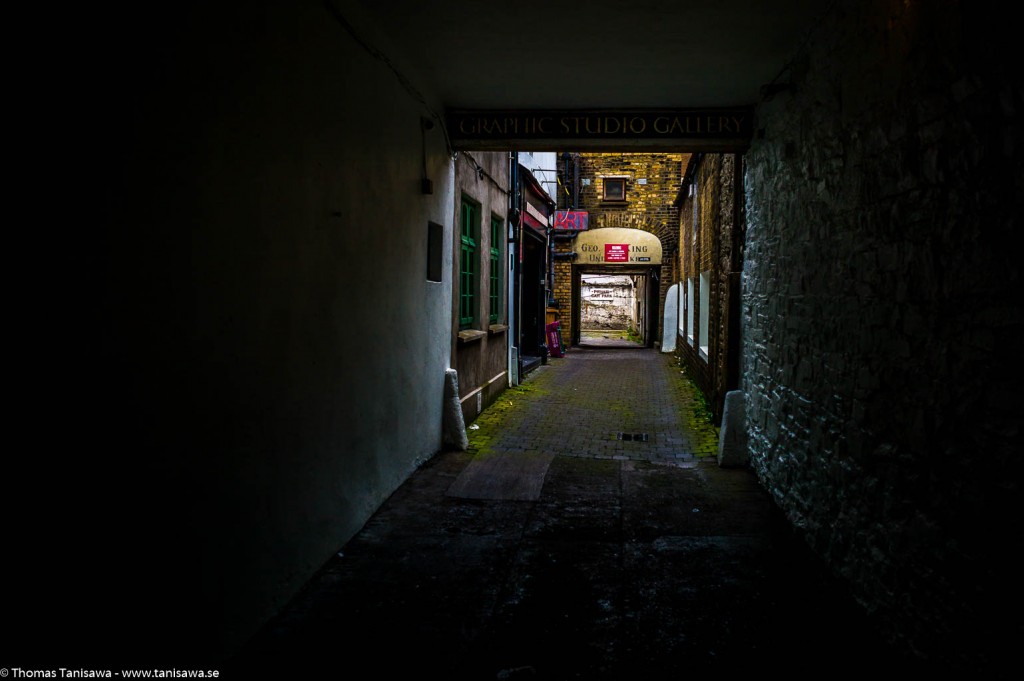 If you were brave enough, the back alleys continued forever keeping a lot of small secret stores away from the tourists.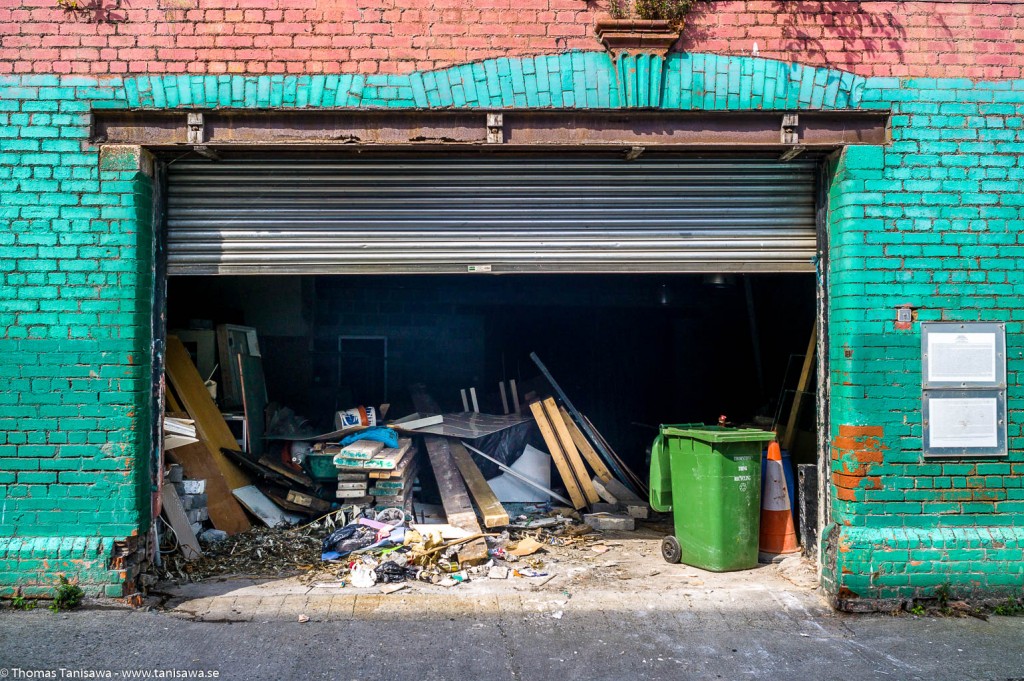 Hard to know if someone was building it up or tearing it down…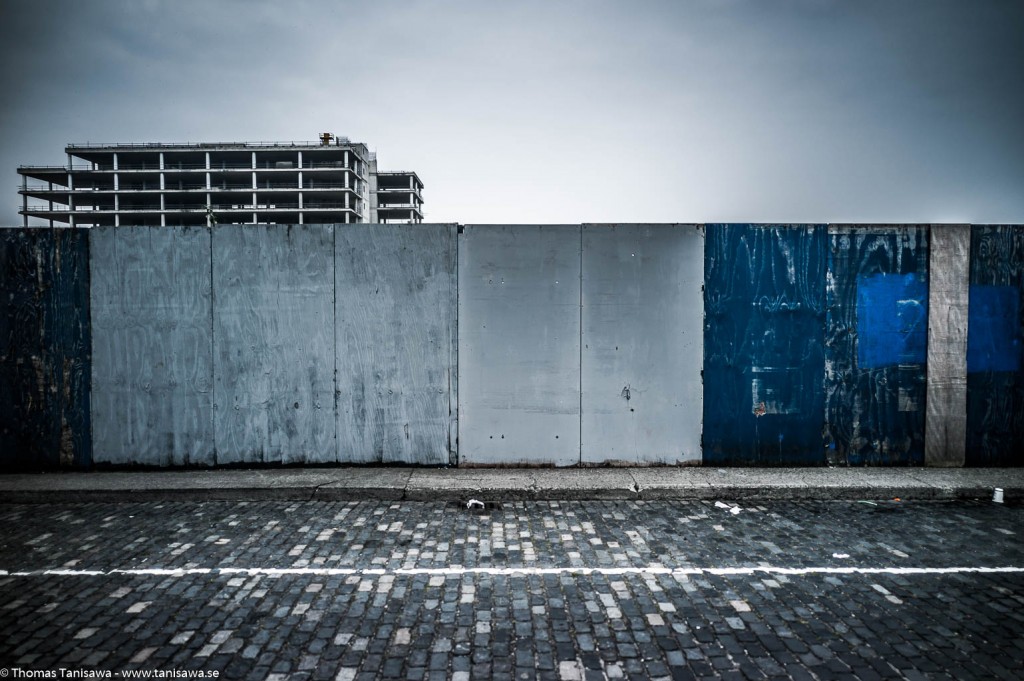 This is just a few minutes walk from my hotel out on the Point near the O2 arena. Apparently it wasn´t the O2 arena anymore and during my stay the new 3 (three tele company) sign was mounted on the wall. I do not now if it was planned, but it took them tree days to mount the sign.
This building was on the way up, hopefully. It looked however quite abandoned…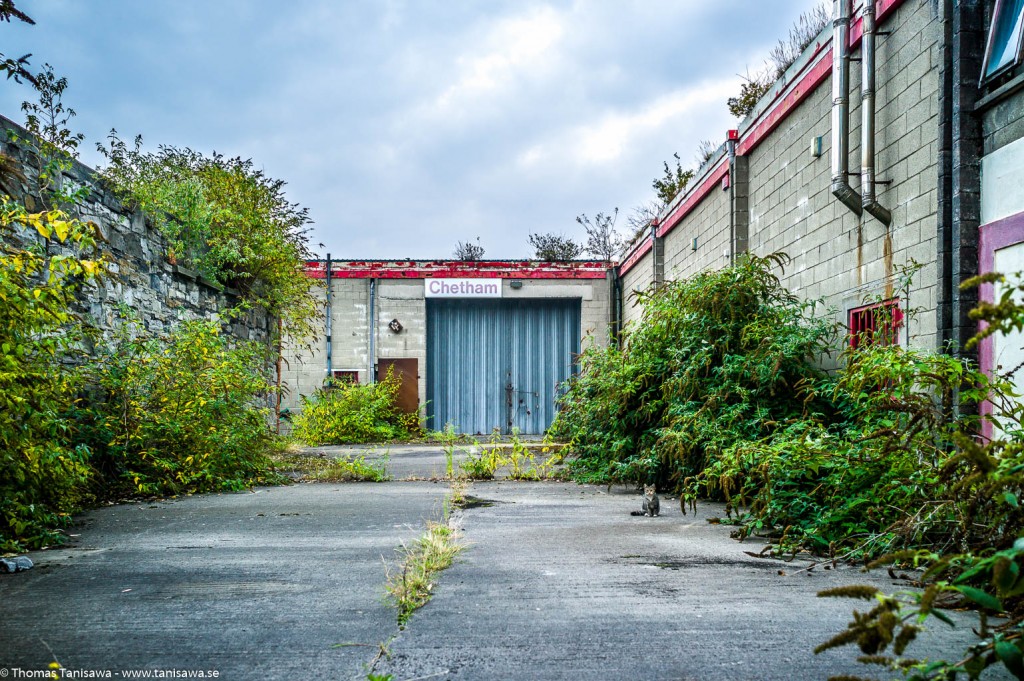 This was one of many places in the need of some love and care. When I stood there to take the image, the small cat studied my every move. Maybe I was the first person that stopped for more than two seconds. Can you spot him?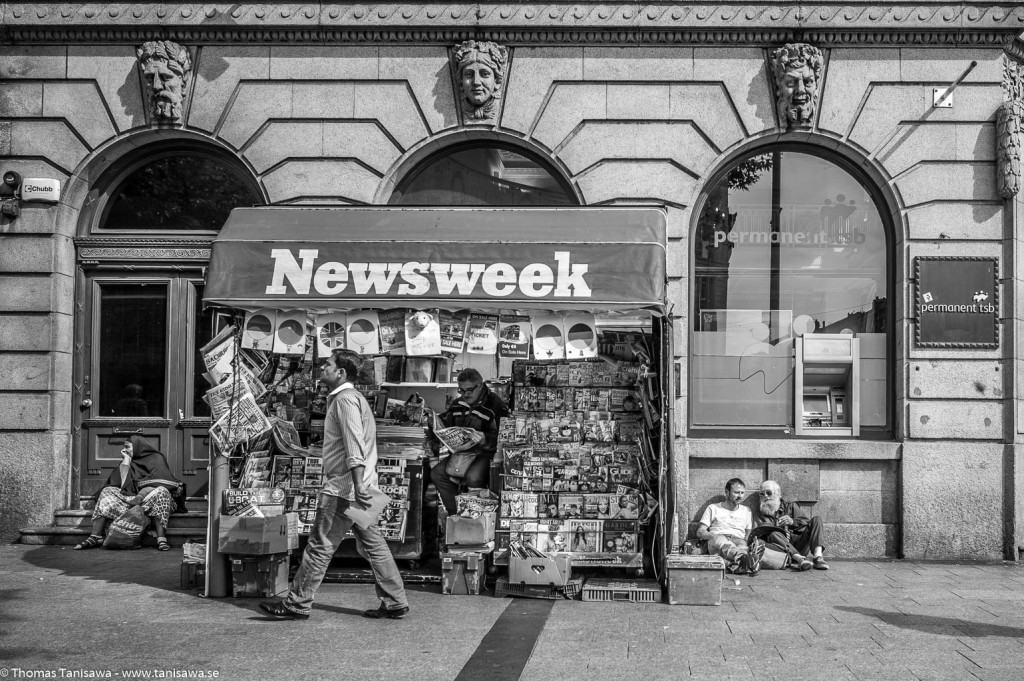 Old classic newsstand! Not everyday you see this, not back home in Stockholm anyway. This salesman had the possibility to read newspapers from all around the world in perhaps 20 different languages, I wonder if he reads a lot of different magazines or if he reads the same one everyday.
The two lads to the right seemed to have more than enough time to plan how to spend the day.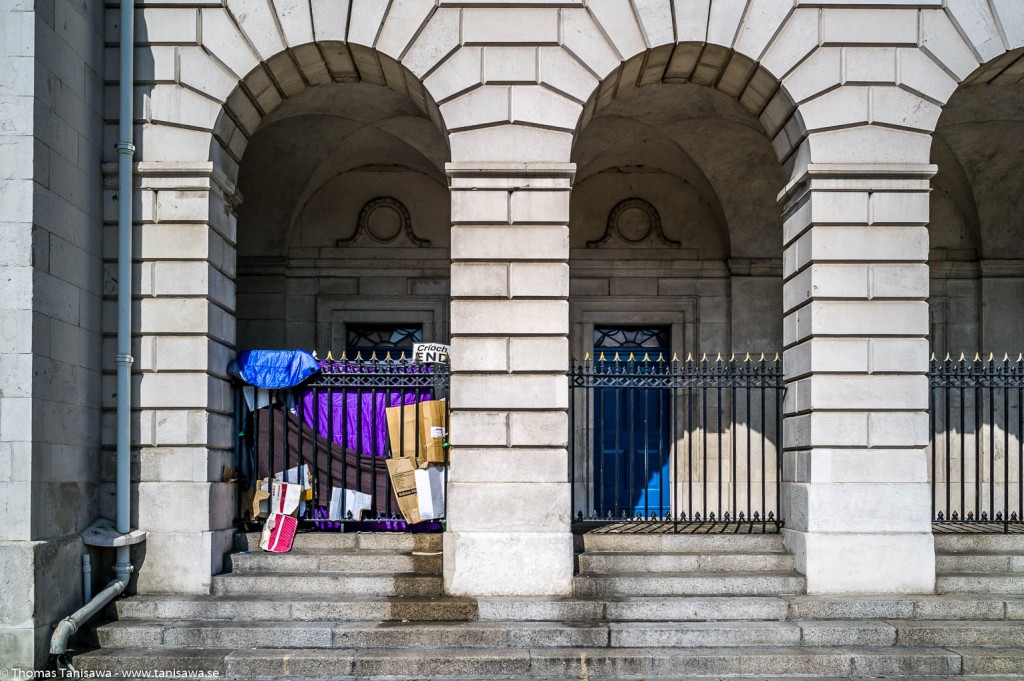 Even if you have bright colors on your shelter it must be more than depressing. Not having a safe and secure place to spend your night is something that I can´t even imagine. Unfortunately this wasn´t a rare sight and you could see people sleeping on benches and in stairways al over Dublin.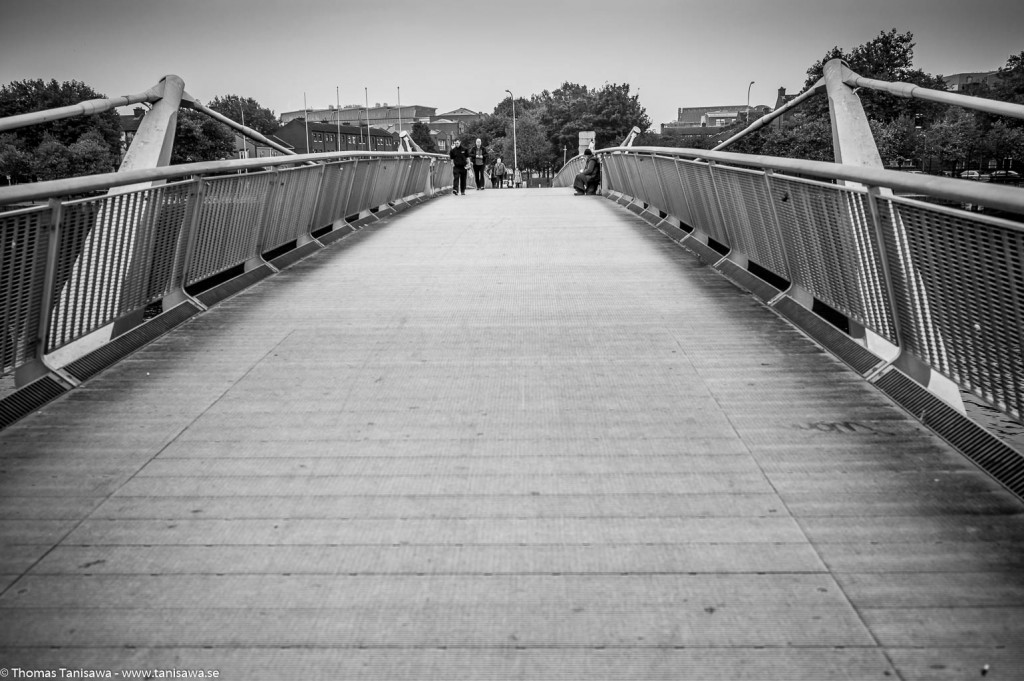 On one of the bridges over the canal dividing Dublin in a north and a south half, this man was sitting everyday (at least on the four days I was there but I would be surprised if it was coincidence) with a small cup in his hand. Not saying a word he just sat there hoping for some change coins from by passers.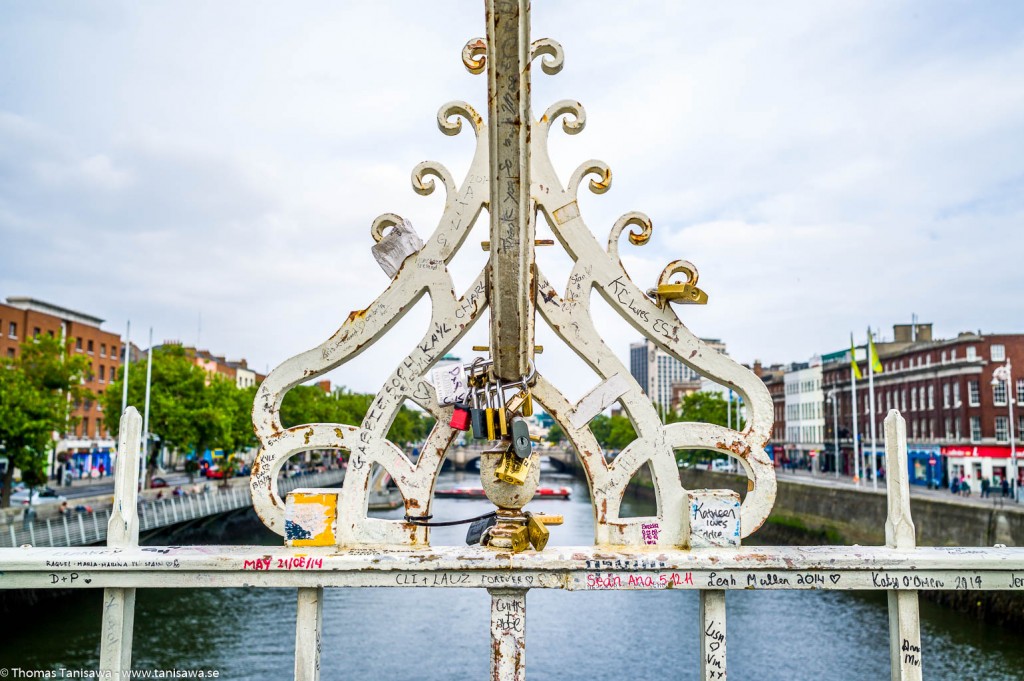 On the same bridge as the man was sitting there was a lot of so called lovelocks. Couples write their names on a lock and together lock their love, in this case on the bridge. There were a lot of locks on this bridge and on a lot of other places to here in Dublin so there is obvious a lot of love in this city behind the crumbling facade.
I hope that if I return to Dublin in a couple of years all half ready abandoned building were finished and that the city was cleaned up and was given a total makeover of new paint. On top of that it would be nice of the number of locks on the bridges had doubled!
Best regards
/Thomas Tanisawa